Lebkuchen Bars
A German Christmas
In the fall of 2011, my husband and I took an extended vacation to Nuremberg, Germany to see our youngest boy, who had already been over there for some time, play soccer. While there we took in every museum, restaurant, soccer game, the Nürnberg zoo, and every nearby small town and village we could explore and learn more about. And thanks to my husband and my own sweet tooth, we made it our daily intention to visit a new bakery—usually one within walking distance of our hotel. Even the smallest of bakeries had a plethora of choices to satisfy our desires. But hands down our favorite sweet was the local favorite, the Lebkuchen, or the gingerbread cookie. The closest translation of the word is the 'life cookie,' or the 'sweet cookie,' or even the 'favorite cookie.' The Lebkuchen indeed became all those things to us.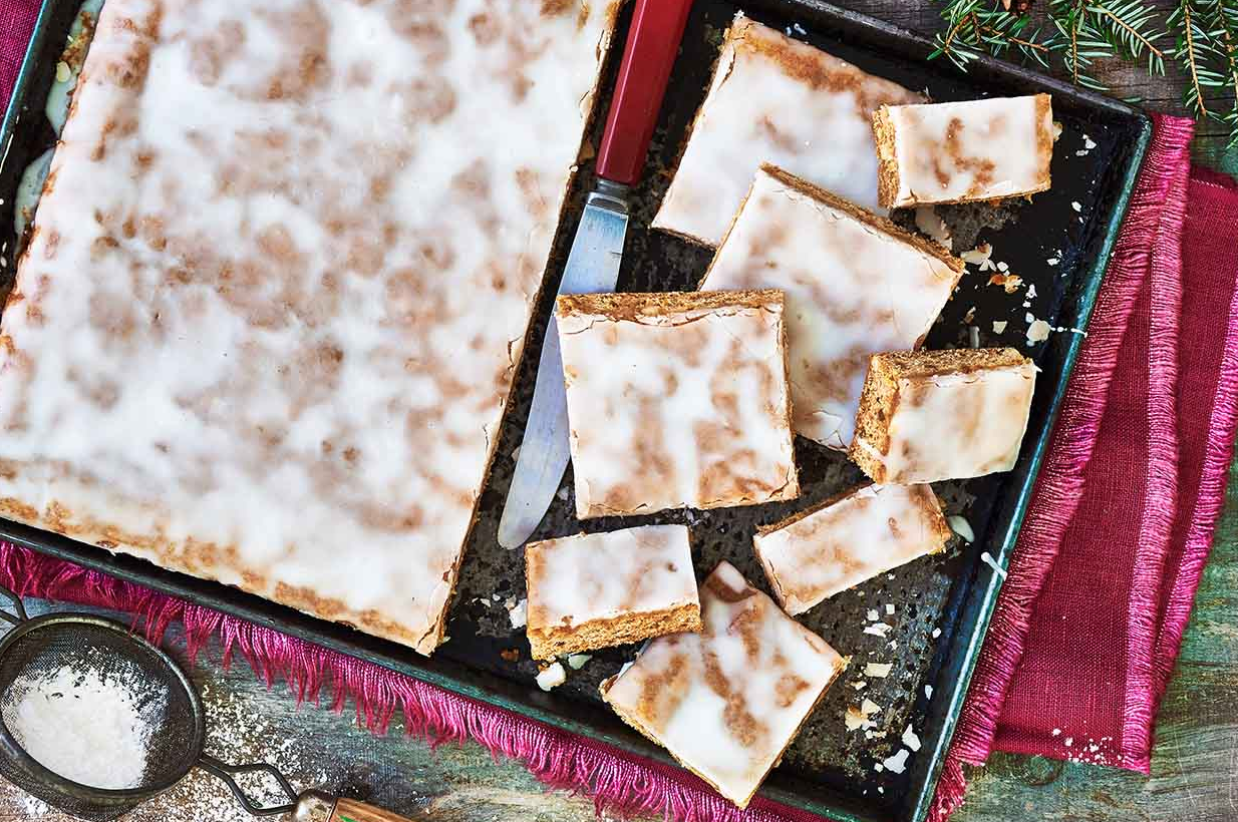 As a home cook one of my favorite things to do is to choose recipes that require lengthy thought and preparation. Lebkuchen are no exception. In fact, to make them right one must make sure they have at the very least a day and a half to do so. What makes this cookie so much fun to bake is that while allowing the dough to chill overnight, as well as allowing them to bake slowly, I can set up the Christmas tree, pull down the ornaments from the attic, decorate the tree, put all the empty boxes back in the attic, and scarf down a cup or two of hot chocolate (sometimes with either schnapps or Bailey's added, depending upon how German or Irish I feel at the time).
Lebkuchen remind me of one of my English stepfather's favorite cookies, the fruit bar, except without the icing or chocolate drizzle. If you should decide to make them, it's helpful to note that they can easily become hard if they're not placed in an airtight tin or Tupperware. If that should happen, however, fear not. By adding a small piece of apple or bread to the container, the cookies should in no time soften up. Enjoy!
Lebkuchen Bars Ingredients and Directions
¾ cup honey
½ cup light brown sugar, packed
2 large eggs
2 T lemon and orange peel
2 ¼ cups King Arthur Unbleached All-Purpose Flour
¼ t baking soda
½ c finely chopped almonds
2 t ground cinnamon
1 T ground ginger
1 t ground cloves
¼ c finely ground diced ginger
Topped with chocolate glaze and sliced almonds
Mix honey and brown sugar over medium heat. Cool. Then add eggs and candied peel. Add the spices along with diced ginger. Combine all ingredients with the flour and baking soda. Cover with plastic wrap and chill overnight. Grease 9" x 13" pan and line bottom with parchment paper. Roll into rectangle and place it in the pan. Bake 350 for 20 to 25 minutes. Cool before glazing and decorating.
Hint: the small t means teaspoon, the capital T means tablespoon. I obviously love ginger!